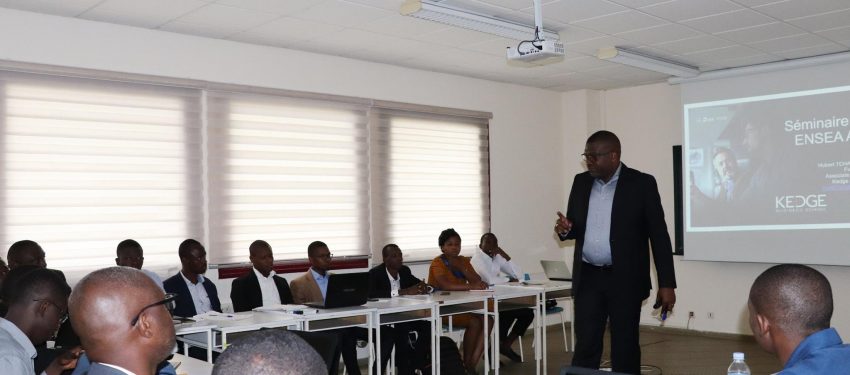 Within the framework of the implementation of the African Centre of Excellence (CEA) project, ENSEA has opened, since the 2018-2019 academic year, a doctoral training course, within the Joint Research and Innovation Unit (UMRI) Statistics and Applied Economics (UMRI-SEA). The UMRI-SEA is a laboratory of the Polytechnic Doctoral School (EDP). UMRI-SEA's policy orientations are defined by the deliberations of the ENSEA's Scientific Council. The aim of doctoral training at UMRI-SEA is to train graduates capable of carrying out high-quality research in the university, private or public sectors. The research axes of the doctoral programme are as follows:
(i) Quantitative economics ;
(ii) Statistical methodology;
(iii) Statistics and social sciences;
(iv) Statistics and public health.
The duration of the Thesis is three years. An additional year may be granted by way of derogation by the Directorl of ENSEA upon motivated request of the candidate and his/her thesis director, after advice from the Director of UMRI and agreement from the EDP. During their course of study, doctoral students take part in courses (teaching, speciality seminars, cross-disciplinary seminars and professional integration seminars) and research internships organised by the UMRI-SEA managers. These doctoral training courses are credited and must be validated by the doctoral students.
Selection is made in two phases. The first phase is an analysis of the application files on the basis of which a shortlist of pre-selected candidates will be drawn up. The second phase consists in interviewing the candidates selected at the end of the first phase during an oral interview. A telephone interview (via Skype or any other means of communication) is organised for candidates residing outside Côte d'Ivoire. Candidates declared admitted by the Recruitment Commission at the end of the second selection phase are allowed to register in the doctoral programme.