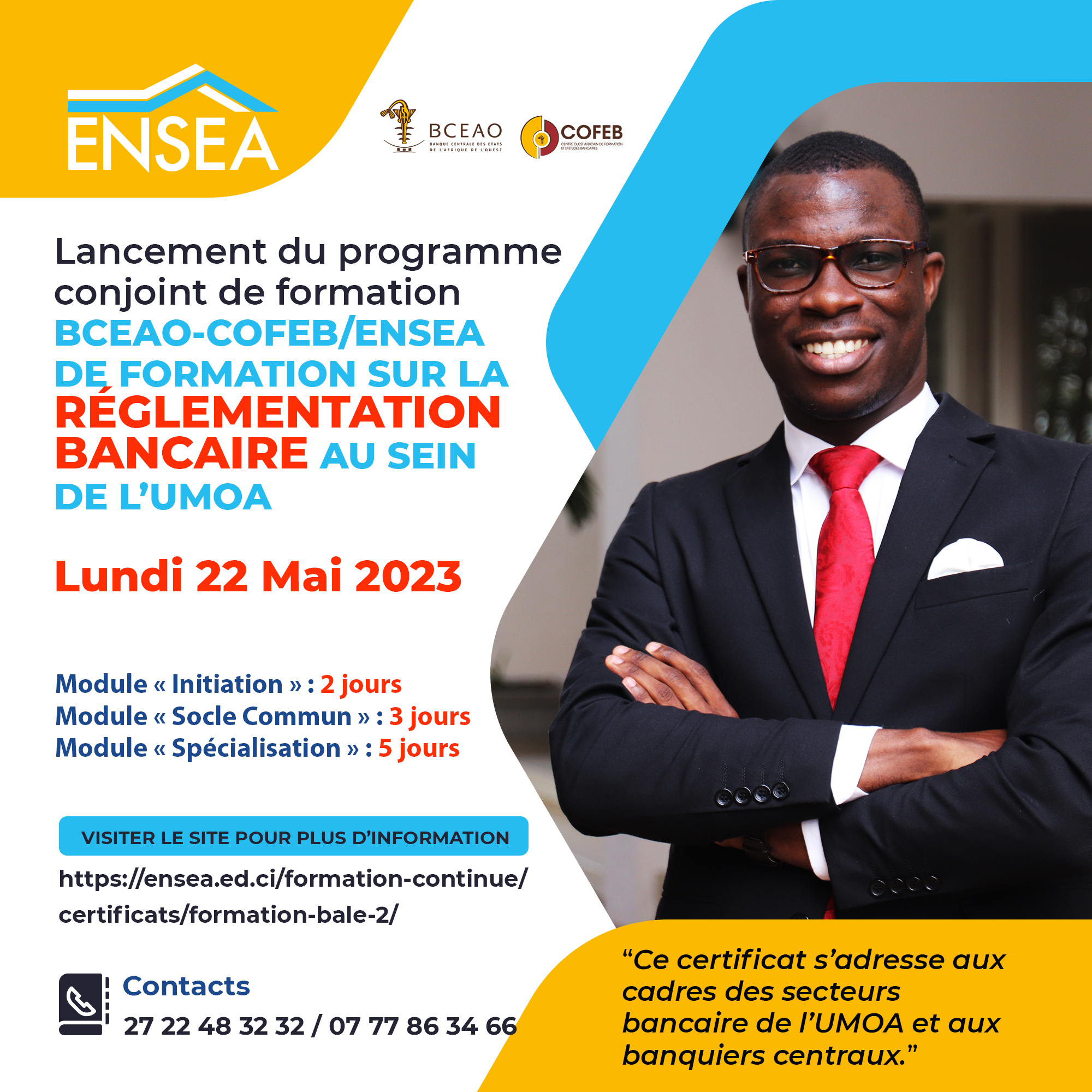 The Ecole Nationale Supérieure de Statistique et d'Economie Appliquée, ENSEA and the CBWAS (official account) through the COFEB (The West African Training Center for Banking Studies) is launching a joint training program on banking regulation within WAMU-Securities on Monday 22 May at ENSEA in Abidjan.
This training program is structured around the three (3) modules namely:
𝐌𝐨𝐝𝐮𝐥𝐞 " 𝐈𝐧𝐢𝐭𝐢𝐚𝐭𝐢𝐨𝐧 " : This module aims at providing the basics of the knowledge of the banking environment and its stakes. It addresses the main principles of bank management, the importance of regulations. It also brings the financial culture on the major crises and bankruptcies that have occurred in the financial sector.
🔴 2 days : 22 – 23 May 2023
𝐌𝐨𝐝𝐮𝐥𝐞: "Common Core" : This module aims to provide learners with knowledge on the requirements of the regulatory text, the organization of banking supervision, the principles of determining the various ratios designed to ensure the resilience of the financial system, the internal organization of banks to meet these requirements and finally the financial communication around the regulatory requirements.
🔴 3 days: 23 – 25 May 2023
𝐌𝐨𝐝𝐮𝐥𝐞 "𝐒𝐩e𝐜𝐢𝐚𝐥𝐢𝐬𝐚𝐭𝐢𝐨𝐧": This module aims to provide notions on risk modeling, to present techniques and approaches for modeling credit risk estimation parameters (Probability of default, loss given default, exposure at default, CCF, …). It also discusses the issues involved in using the models.
🔴 𝟓 days : 29 May – 02 June 2023
📞 +225 07 77 86 34 66